Princess Begum Sahiba Niloufer Khanum Sultana Farhat of Hyderabad better known as Princess Niloufer was married to the second son of the last Nizam of Hyderabad, Moazzam Jah (whom the popular fruit market Moazzam Jahi Market in Abids, Hyderabad is named after). Princess Niloufer, who also was one of the last princesses of the Ottoman Empire, was not only popular in the old city's party circuit, she was also known to have famously said, "No more Rafats will die," after one of her beloved maids, Rafatunnisa Begum, passed away during childbirth because of the lack of medical facilities. Which is how the famous Niloufer Hospital at Lakdikapul in Hyderabad came to be, which she started under the Hyderabad Women and Children's Medical Aid Society in 1943. There is no doubt that she was as benevolent as she was beautiful and that her generous soul must be smiling down with pride at Mohammed Shujatullah as it is outside Niloufer Hospital that Shujatullah first started serving breakfast to the needy and has been doing so for the past 704 days. Every day, at 8 am, one is sure to find him serving piping hot upma made with pure ghee, along with chutney. And from there, he heads to the Government Maternity Hospital in Koti where he's been serving breakfast for 283 days. And Shujatullah does this every day, including weekends, holidays and festivals.
Peddling back to the start, in 2015, Shujatullah, a student of Sultan Ul Uloom College of Pharmacy, started distributing dinner at Secunderabad Railway Station. This was a part of his prayer so that he could clear his academic backlog. "The satisfaction I gained out of this was priceless," says the Hyderabadi. He thought to himself, 'God has given us so much, can't we forgo some money so that the poor can be fed?'. So, in a classic example of 'charity begins at home', he asked each member of his extended family of 25 to forgo one day's salary every month. Soon, with the help of his near and dear ones, he started serving dinner to around 250 people. He completed his Bachelor of Pharmacy and started pursuing his Doctor of Pharmacy. With that, he began serving at Niloufer Hospital and Government Maternity Hospital. The upma that is served is made at the Gharana Food Court at Padmarao Nagar, which Shujatullah, who lives in Musheerabad, transports in an auto. He is a stickler for quality and tastes the food before he proceeds to serve it. On most days, he is the only one serving, however on weekends, a few volunteers join him.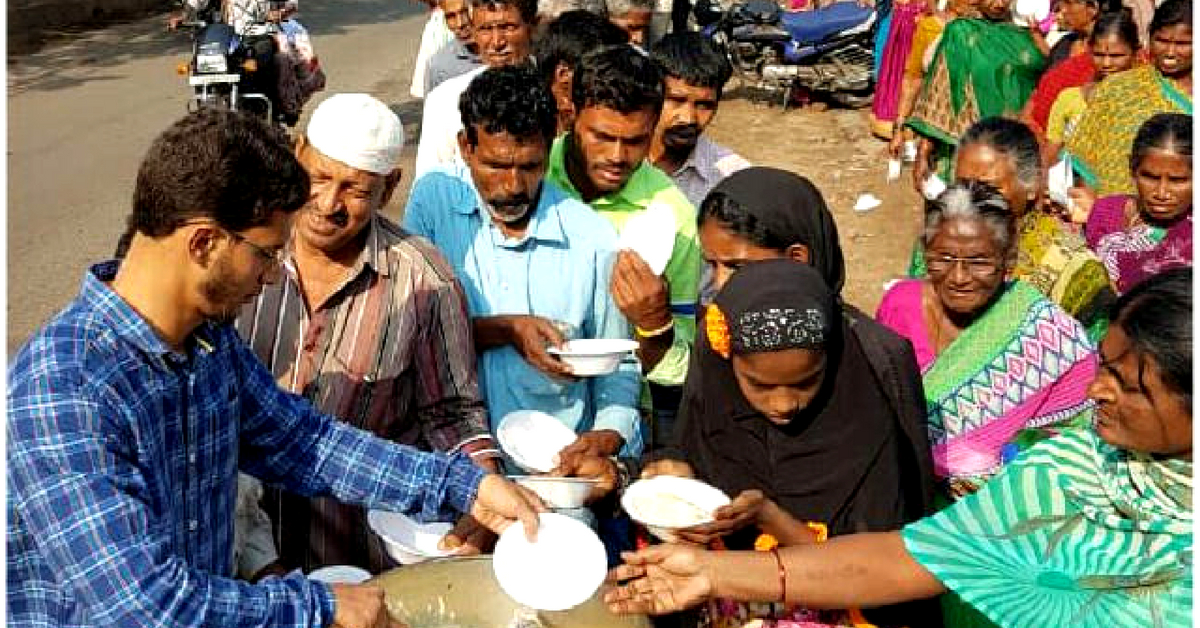 "I know that some people wait for me to serve breakfast from 7:30 am and that is why I make it a point to be there every day"
Mohammed Shujatullah, Founder, Humanity First Foundation
Speed breakers
But just because Shujatullah is doing a noble deed, it doesn't mean that he does not face any obstacles, first of which was thrown in his path by his own parents. They insisted that he study first, marry, settle down and then start doing 'all this', as it is only in the later years of life that one begins to think of charity on such a large scale. All Shujatullah did was hand them a paper and ask them to give him a guarantee, in writing, that he will live up to his 70s. If they could do so, he promised to stop 'all this' the very next day. "My parents just said 'He has gone crazy'," he laughs as he shares this. As dramatic as it sounds, it did work and we recall a Steve Jobs quote in this context, "…the ones who are crazy enough to think that they can change the world, are the ones who do." Its because of this that Shujatullah doesn't leave any scope for his parents to complain. He maintains an attendance of 90% and scores around 70%. Currently, he is interning at the Aster Prime Hospital in Ameerpet and showing no signs of stopping. Explaining his purpose, he says, "My point is, what will I take from this Earth after I die? Nothing. I just want to do good deeds," he says, taking us into a philosophical tangent. And that's not all. Being a Muslim, he was asked to serve only Muslims by his own brethren. They even went as far as suggesting that he serve only a particular group of Muslims. Of course, he paid no heed and started his own NGO Humanity First Foundation. And thank God for that, as he has fed as many as 5,56,000 people since that day at Secunderabad Railway Station. One feedback he often receives is that the food is homely and doesn't give them a bad stomach, unlike food from hotels.
"Occasionally, during his exams, his cousins hold down the fort, but other than this, he never misses a day. This is mostly because he knows that some people depend on the breakfast and it is probably the only meal they might have that day"
Wait, there's more?
Shujatullah has not limited himself to these two places. On Sundays he even serves at AKM Orphanage in Kachiguda, Home for Disabled in Secunderabad and Fatima Old Age Home at Falaknuma. During winter, he distributes blankets and under his Orphanage Programme, he distributes basic necessities like soap, rice, books and toothpaste to orphanages. A year ago, a few people from Sadasivpet in Sangareddy district approached Shujatullah, requesting him to help them with employment opportunities for the widows and other women of their district. So, he set up sewing centres in Rahmat Nagar, Feroz Gandhi Nagar and Veltur and through these, helped teach 450 women how to sew. "We even donated 20 sewing machines," he informs. He has also started a programme called Project Transformation where he helps those who are abandoned on the street. He gives them a bath, a shave, even a haircut and takes them to an old age home. Consistency might be a lesser-acknowledged trait, but having served every day since he started this, Shujatullah knows how hard it is to achieve it. He sleeps six hours a day and between calls, studies and all his volunteering work, he has no time for movies or 'chilling' with friends. And now, he doesn't even desire the mundane. Ask him how he unwinds and he says, "I take myself to an old age home, joke and laugh with them and automatically feel rejuvenated," he tells us. And when we run out of questions to ask him, feeling exhausted just at the thought of all that he does, he maintains his cheery disposition and makes us promise that we will visit him soon to serve at any of the venues. We affirm, hoping that some of his zest will rub off on us.