Hyderabad's boy named Sujathullah is a man full of humanity. The 24-year-old man used his pocket money to Feed 1000 people who are needy every day. The man every single day wakes up at 7:30 a.m and reaches the Koti Maternity Hospital in Hyderabad, where around 300 poor patients wait in line for their meal. He has been doing this food offering service for free from quite sometime now. So far he completed 604 days of daily free breakfast distribution at Nilofer Hospital and around 180 days of free breakfast at Koti Maternity Hospital.
The beautiful thought to feed the needy came into this man's head back in 2016. He started feeding the poor with his pocket money near the Secunderabad Railway Station. He felt pretty overwhelmed when hungry people rushed to him seeing food in his hands. He is currently pursuing Pharma degree from the Sultan Ul Uloom College of Pharmacy and lives in a joint family. He realized the importance of helping others because of his family he says.
He used to spend his pocket money on buying and distributing dinner, drinking water and blankets. He soon started a foundation called Humanity First. When Sujathullah expressed his desire to spend his money on serving the poor, his family asked him to complete his education, get a job, get married and then donate post-retirement. But however, he managed to convince them and have them bear his expenses.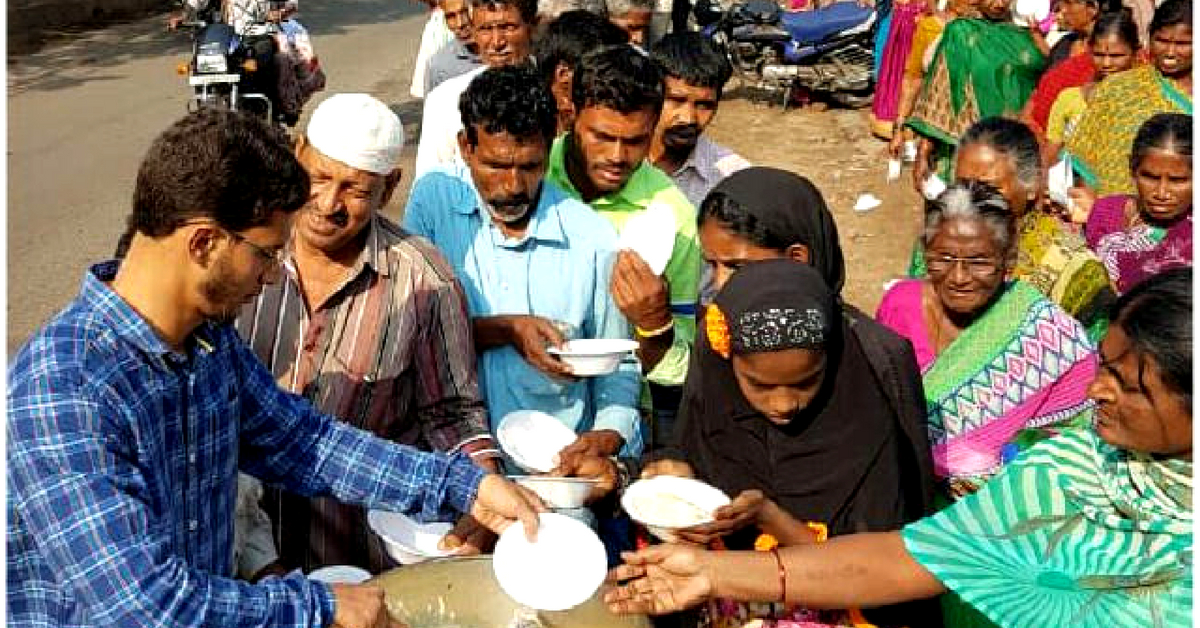 Sujathullah distributes free food every day to the needy
As a regular schedule, he distributes breakfast at Koti Maternity Hospital from 8 a.m. to 8:30 a.m. and then at Niloufer Hospital from 8:30 a.m. to 9 a.m. after which he leaves to the college.  He serves nutritious and healthy food to the poor without any compromise. He orders the breakfast for 1000 people from a hotel in Padmarao Nagar. He spends an average of Rs 3,500 for 20 kilos of food while transport, disposable spoons and bowls cost another Rs 500.
The foundation he has set up also carries out various social activities. His foundation also helps the disabled people and provides free counselling sessions for them. He every now and then visits these places and distributes items to fulfil their necessities. He also conducts medical camps in slum areas. He brings in General physicians and dentists to conduct basic health and dental check-ups. He also distributes free medicines through these camps.
He also distributes blankets for the people sleeping on footpaths during winter. His mission is to make sure that no one, irrespective of race, caste, or religion, is hungry. He wants to create an ecosystem of charity and generosity towards the poor.